Comprehensive Sustainability Plan
Welcome to the Town of Hillsborough Comprehensive Sustainability Plan project page.
The town is developing a comprehensive sustainability plan to advance its sustainability and resiliency goals, including its clean energy pledge.
The plan will guide future development and the transition to 100% clean energy, balancing environmental stewardship, resiliency and racial justice with smart growth that will allow for a thriving economy and a great quality of life for the residents of Hillsborough.
Visit each drop-down section below to learn more about the plan and ways to get involved.
Ways to stay involved
The project team will primarily use this website, town news releases and the town's monthly community newsletter to let members of the community know about ways they can provide input and participate in the planning process. Subscribe to stay informed as the process advances.
Upcoming opportunities
Join the team for focused discussions on a variety of topics integral to the Comprehensive Sustainability Plan! These discussions are open to the public and will take place during meetings with each focus area's corresponding appointed board. Check back for any additional dates.
Plan overview
In 2017, the Hillsborough Board of Commissioners passed a resolution in support of transitioning to 80% clean, renewable energy for town operations by 2030 and 100% by 2050. The Comprehensive Sustainability Plan will align the town's current comprehensive plan with the resolution's goals of building a more resilient, environmentally sustainable town.
The new plan will establish a framework for achieving the community's vision for growth and development while establishing feasible steps to meet the town's renewable energy goals. This comprehensive planning effort will be used to create a healthier, more vibrant, economically competitive and resilient community.
Like other approved plans and town planning efforts, the Comprehensive Sustainability Plan is the beginning of the work needed to engage the community, businesses and town staff in implementing the actions necessary to meeting the town's ambitious targets. Implementation will be an ongoing effort for years to come, with emphasis on key priorities, budget and other efficiencies, and continued input from the community.
Plan elements
The plan's study team will identify the community's overall vision and goals for a sustainable future. The team then will further explore a series of priority issues like those outlined below. For each priority area, issues and opportunities will be identified and recommendations made on achieving the community's goals in a sustainable way. Climate actions and objectives will be considered for each element, such as identifying benchmarks for emissions reductions and mechanisms for tracking.
A variety of stakeholders and partners will be consulted throughout the planning process. These may include town residents, local business owners, community groups, state and regional agencies, neighboring local agencies, utility providers and nonprofit groups.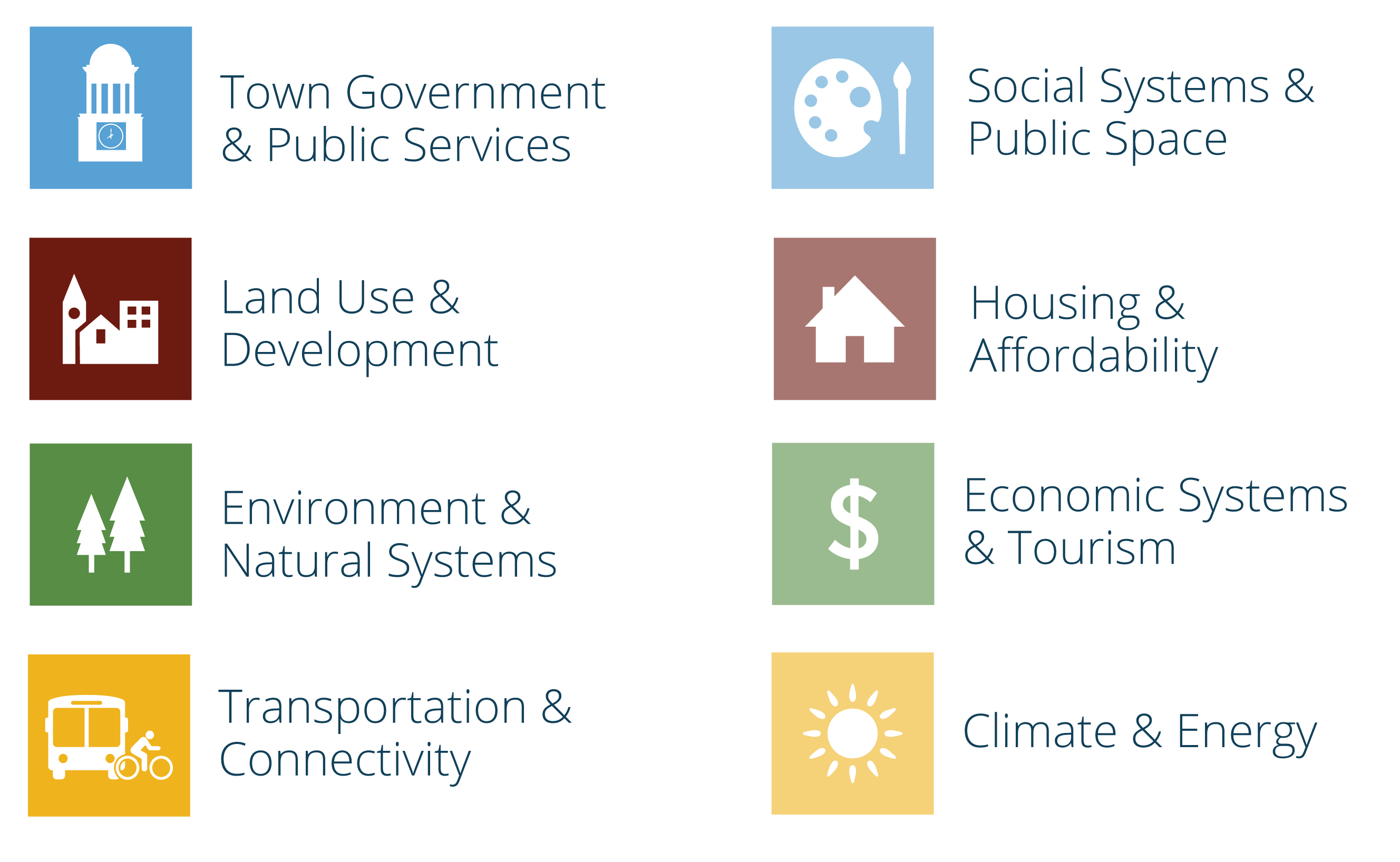 Planning area
The planning area for the Comprehensive Sustainability Plan includes the Hillsborough town limits and its extraterritorial jurisdiction (ETJ). The area within the town's urban service boundary also will be considered regarding future growth and development.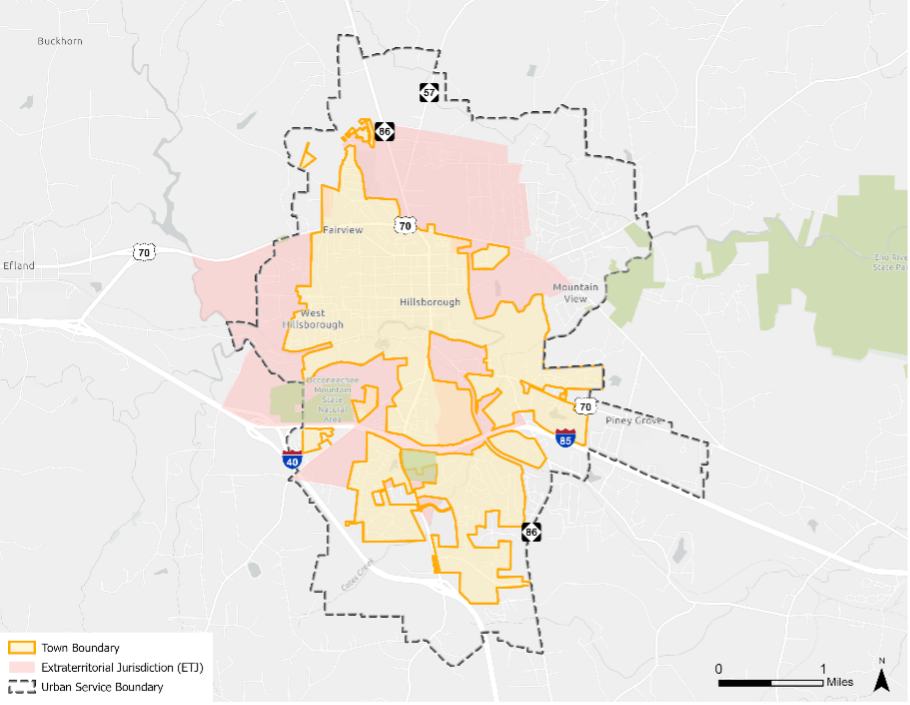 Schedule
Work on the Comprehensive Sustainability Plan started in spring 2021, with completion now expected in spring 2023. Opportunities for public input will be available throughout the process.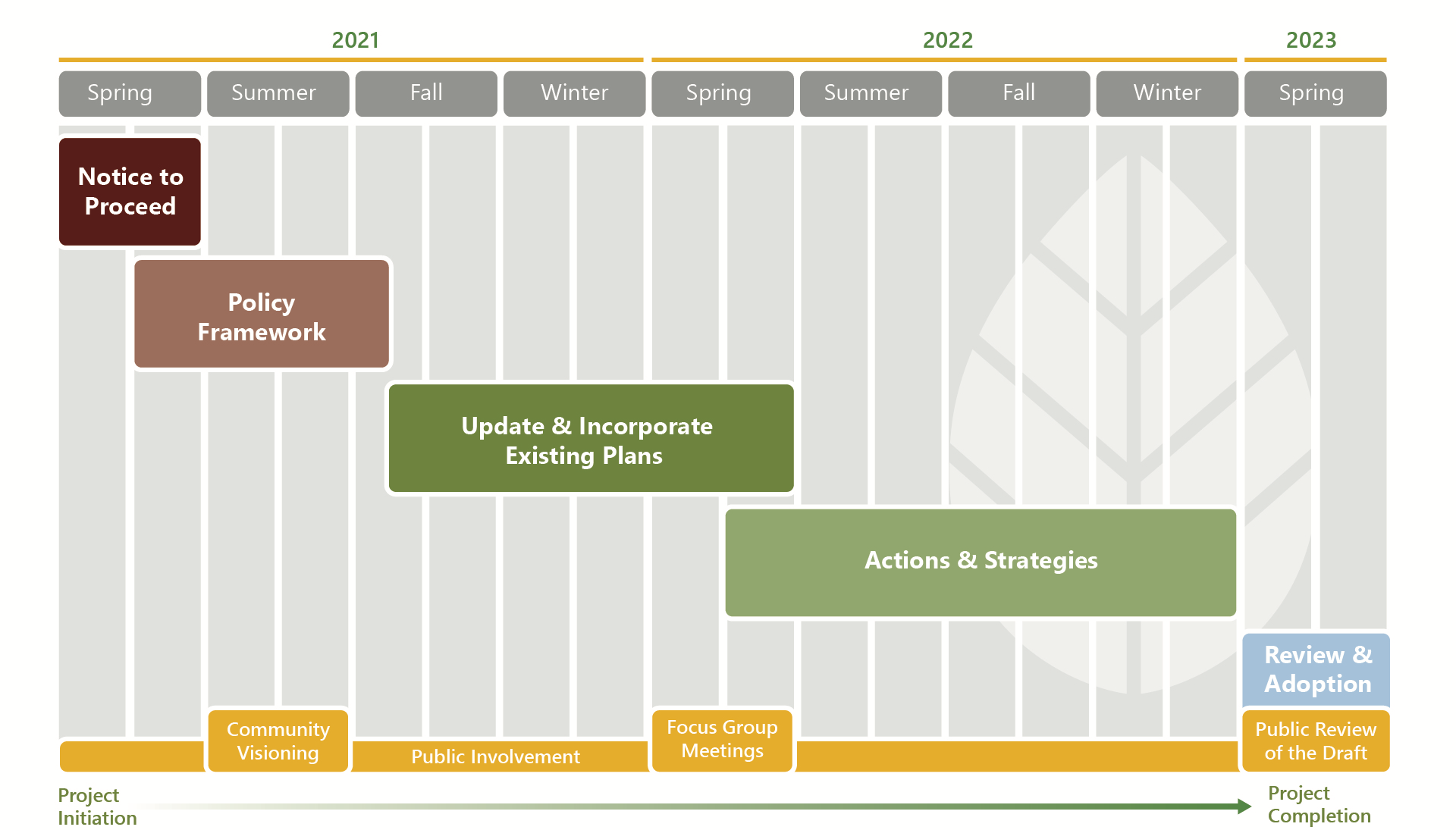 Frequently asked questions
What is sustainability?
The U.S. Environmental Protection Agency provides this definition of sustainability:
Sustainability is based on a simple principle: Everything that we need for our survival and well-being depends, either directly or indirectly, on our natural environment. To pursue sustainability is to create and maintain the conditions under which humans and nature can exist in productive harmony to support present and future generations.
What is a sustainable comprehensive plan? How is it different than a regular comprehensive plan?
This plan builds on the Hillsborough Comprehensive Plan and other town planning efforts. It will reevaluate each component through a lens of environmental sustainability and climate action. It also will:
Guide future growth and development in the town.
Guide zoning, annexation, land use and transportation decisions.
Identify needs for regulations and ordinance amendments.
What is climate action?
Climate action includes strengthening resilience and adaptive capacity to climate-related hazards and natural disasters, improving education and awareness, and avoiding unnecessary carbon dioxide emissions. We all need to take action to combat climate change.
What is clean, renewable energy?
Clean, renewable energy is carbon- and pollution-free energy that is sustainably collected from renewable sources, including wind, solar, and geothermal.
What are commercial and mixed-use areas?
Commercial land is an area used for commercial purposes and intended to generate a profit. They are non-residential areas where businesses are located.
Mixed-use land is an area that has commercial business and a residential component, such as live/work apartments or a building with commercial use on the first floor and residential units above.
Examples of commercial areas in Hillsborough include land on South Churton Street, downtown, Nash Street, the North Churton Street shopping area, and U.S. 70. Hillsborough does not currently have much mixed-use land. The land around the future train station in central Hillsborough is a possible location for mixed-use development. Part of the planning process for the Comprehensive Sustainability Plan is gauging what level of density would be acceptable as commercial areas redevelop.
What is the difference between greenways and trails?
Greenways are wide, stable-surface paths. Trails are smaller and have a natural surface, more like footpaths.
Riverwalk is considered a greenway. Kings Highway Park has trails.
Contact information
The project's core team includes town staff who are managing the plan and a consultant team. The study team is responsible for coordinating outreach, analyzing existing conditions, developing sustainability indicators and preparing the plan. Other project team members include additional town staff, town advisory boards and local government officials.
For questions or for more information, contact town Public Space and Sustainability Manager Stephanie Trueblood via the contact form on this website or by calling 919-296-9481.