Bee Hotel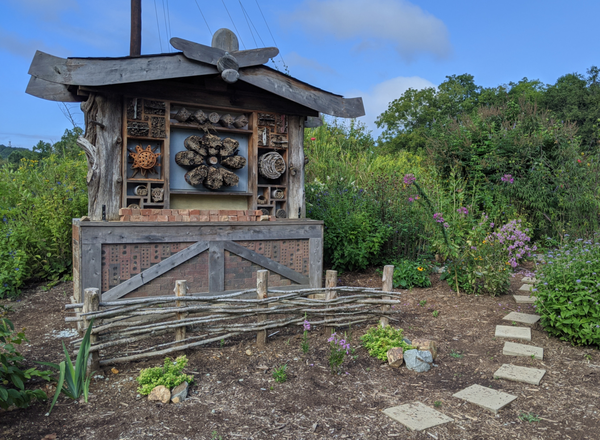 In 2016, Hillsborough became the 35th city to be named a Bee City USA. With that title comes a commitment to building healthy habitats for pollinators and raising awareness of the benefits of pollinators in the community. Dedicated in November 2017, the bee hotel provides a home for the 90 species of bees native to the area, many of which live solitary lives and seek a safe, tunnel-like dwelling to lay eggs and care for their young.
Location
The bee hotel is located in the Gold Park pollinator garden, 415 Dimmocks Mill Road, along the Riverwalk greenway, south of the railroad trestle.

Bee Hotel Location Map
Design
A public call for design submissions was issued in June 2017, with a selection committee choosing a design submitted by Orange County landscape designer and builder David Hinkle in July 2017.
Hinkle has been a woodcarver for many years, and his design features several carved elements, including cedar log corner posts with bee carvings. In addition to cedar and bamboo, the design makes use of recycled and salvaged materials where possible.