Riverwalk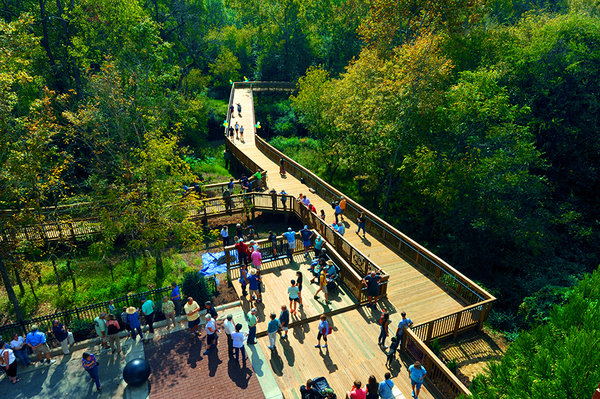 Riverwalk is a paved, accessible, urban greenway that stretches about 2 miles along the Eno River between Gold Park in western Hillsborough and trails east of town. It is a popular trail for walking, jogging and cycling, and provides pedestrian connections between several neighborhoods.
The greenway's downtown portion is the primary route of the N.C. Mountains-to-Sea Trail, and the first section of the statewide trail system to be constructed in Orange County. Riverwalk also is one of the few sections of the Mountains-to-Sea Trail located in an urban environment, giving users easy access to restrooms, restaurants and shopping.
The greenway is open daily from 8 a.m. until a half hour after sunset.
Entrances
Riverwalk can be accessed from a number of locations, but primary access points are:
Downtown Hillsborough — the main entrance is by the Eno River Parking Deck at the end of Nash and Kollock Street, adjacent to the Gateway Center.
Gold Park — the town park is located at 415 Dimmocks Mill Road.
River Park — the Orange County park is located at 140 E. Margaret Lane behind the Orange County Justice Facility.
Trail markers
Riverwalk includes emergency markers, which are placed every 0.1 miles. The yellow markers are labeled "Orange County 911 Location" on the top half. The bottom half contains the identifying location code and number to give emergency personnel. The numbers were created in coordination with the Orange Rural Fire Department, which the Town of Hillsborough contracts with for fire protection. The department's firefighters serve as emergency first responders.
Also installed along Riverwalk are round, white markers labeled MST to signify the portion of the greenway that is a part of the N.C. Mountains-to-Sea Trail.
Safety and etiquette
The Hillsborough Police Department offers the following safety and etiquette tips. Call 911 to report emergencies.
Use the trail only during daylight hours.
Use the trail in pairs or groups.
Wear helmets if biking.
Do not leave valuables in vehicles.
Respect the privacy of adjacent landowners.
Stay on the trail.
Stop, look and yield to traffic at street crossings.
Be courteous and respectful to other users.
Keep to the right.
Pass on the left, and give an audible signal of your intention to pass.
Clean up litter and pet waste.
Maps and handouts
An interactive map of trails and greenways in Orange County, including Riverwalk, can be found on the county website.