Historic District Commission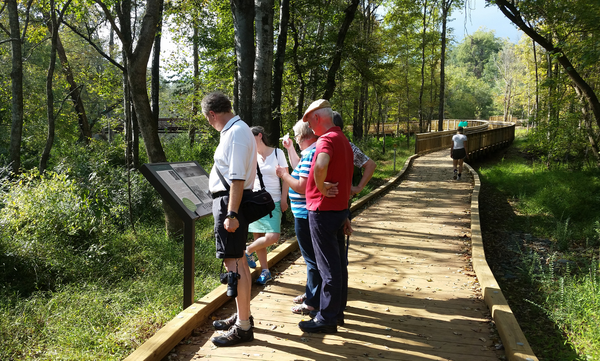 The Historic District Commission reviews applications for exterior changes within the Hillsborough Historic District. A majority of the commission's members have specialized training or an interest in architecture, preservation, archaeology, history or building methods.
All meetings are open to public viewing.
For more information, contact Planner Joseph Hoffheimer by email or by phone at 919-296-9472.
Mission
The commission's mission is to identify, protect and preserve Hillsborough's architectural resources and to educate the public about those resources and preservation in general.
Role
The commission has a quasi-judicial role. The commission hears evidence, determines relevant facts and then applies the law as it concerns the exterior changes to or demolition of any properties as well as new construction in the district.
Historic District
The Hillsborough Historic District presents a visual history of Hillsborough's development. The town chose to respect this development history through passage of a preservation ordinance in 1973, creating the district. A structure is considered historic if it falls within the period of significance. This period ends 50 years before the current year.
The Historic District includes the town's commercial core and the surrounding residential neighborhoods. It contains more than 100 houses, churches and buildings from the 18th and 19th centuries. Included is development from Georgian- and Federal-style buildings dating to the late 1700s to contemporary construction. The district is listed on the National Register of Historic Places.
Certificates of Appropriateness
It is unlawful to begin construction, moving, demolition, alteration or restoration of any structure or site within the Historic District before a Certificate of Appropriateness has been issued.
Documents
Certain exterior improvements to a site or structure in the Historic District may be either exempt from permitting or approvable as a minor works Certificate of Appropriateness by Planning and Economic Development Division staff. Prior to making any exterior changes to a site or structure, applicants are strongly encouraged to discuss the proposal with staff to determine which process governs their project and to avoid potential after-the-fact permit penalties and enforcement.
Historic Preservation Awards
The commission conducts an annual awards program for noteworthy historic preservation projects in Hillsborough.

2021 Preservation Awards poster
Membership
Name
Term expires
Elizabeth Dicker
Oct. 31, 2024
G Miller
Nov. 30, 2025
Mathew Palmer — vice chair
Nov. 30, 2025
Hannah Peele
March 31, 2025
Sara Riek
Aug. 31, 2026
Will Senner — chair
Oct. 31, 2024
Bruce Spencer
April 30, 2025
Elizabeth Dicker

Term expires Oct. 31, 2024
G Miller

Term expires Nov. 30, 2025
Mathew Palmer — vice chair

Term expires Nov. 30, 2025
Hannah Peele

Term expires March 31, 2025
Sara Riek

Term expires Aug. 31, 2026
Will Senner — chair

Term expires Oct. 31, 2024
Bruce Spencer

Term expires April 30, 2025
Meeting information
Description:
Regular Meeting
Date:
Thursday, Dec. 7, 2023
Location:
Administration Building
101 E. Orange St
Add to personal calendar
12/7/2023 18:30:00
12/7/2023 18:30:00
America/New York
Historic District Commission Regular Meeting
Administration Building, 101 E. Orange St
Agendas, meeting documents and minutes of the elected and appointed boards are available through the town's online portal.
The Town of Hillsborough does not discriminate on the basis of disability in its services, programs, or activities. See the Americans with Disabilities Act Policy webpage for more information.