Treasure Trees
The Tree Board's Treasure Trees Program is intended to create awareness of and give recognition to the preservation of significant trees in the Hillsborough area. A significant tree may be on public or private land and can be recognized for its historic value; beauty; value to wildlife; or exceptional size, age, shape or color.
Trees can be nominated for the program using the online form.
American beech on East Queen Street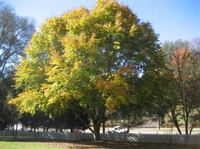 Tree — American beech (fagus grandifolia)
Location — 103 E. Queen St.
Significance — the tree was selected for its size, attractive silvery-gray smooth bark and beautiful, golden-bronze fall foliage.
Facts about American beeches:
The American beech is native to the Eastern United States and is found from Canada to Florida.
The beech is easily and successfully transplanted when young and should be planted in open spaces where it can reach its mature size.
The beech's mature size is 50 to 100 feet high with a matching spread. The tree often has a short trunk and wide spreading crown. It presents a picture of character in a native situation.
The American beech's leaves will stay on until spring-forming leaf buds cast the leaves off.
American sycamore on North Hassell Street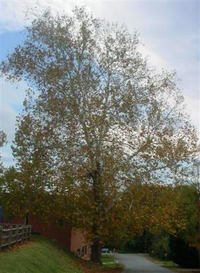 Tree — American sycamore (platanus occidentalis)
Location — North Hassell Street next to the Orange County Central Recreation Center
Significance — the tree has a very distinctive white, almost "bleached" underbark that makes it readily identifiable as a sycamore.
Facts about American sycamores:
The sycamore is native to the United States, Mexico and Central America. In the United States, it can be found from southern Maine to northern Florida and west to Michigan and Texas.
The sycamore also is known as the American plane, occidental plane and the buttonwood tree.
Sycamores tolerate a variety of soil types, as long as the soil is moist and well-drained. They most often are found in bottomlands and along rivers and streams.
The sycamore is one of the largest of the eastern hardwoods. It has huge spreading branches and can grow more than 100 feet tall.
The sycamore has the largest leaves of all American trees.
The trees can live at least 500 years. The American sycamore is a member of a family of trees that have been on Earth for more than 100 million years.
The wood of a sycamore is tough and has few major pest problems. It has been used to make cabinets, furniture, boxes and barrels. Native Americans used the trunks to make dugout canoes. Sycamore trunk cavities make excellent dens for raccoons, opossums, squirrels and wood ducks.
China fir on St. Mary's Road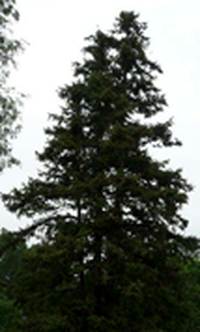 Tree — China fir (cunninghamia lanceolata)
Location — 392 St. Mary's Road
Significance — the pyramidal evergreen tree has an exotic appearance. It was selected for its rarity, exceptional height and overall beauty as a specimen tree.
Facts about China firs:
The China fir is a highly prized tree in its native country of China.
The tree was introduced into the United States in 1804.
China firs are most commonly found in zones 7-9 in the South.
The China fir has fragrant, reddish-brown bark that sheds in long strips.
Dawn redwood grouping on Churton Street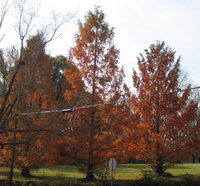 Tree — dawn redwood (metasequoia glyptostroboides)
Location — 219 N. Churton St.
Significance — dawn redwood is listed as an endagered species. Hillsborough has a stand of three.
Facts about dawn redwoods:
Fossilized specimens have been found as far north as Greenland and northern Canada.
Scientifically, the tree recently has been transferred from the cypress to the sequoia family on the basis of DNA.
The tree's leaves change from bright green in spring to red-brown in fall.
The bark is vertically fissured and tends to shed in long vertical strips.
The tree has "armpits," or small depressions under each of its branches.
Fast growth and the ability to tolerate a wide variety of soil and dampness conditions as well as air pollution allow the tree to be useful for ornamental purposes and in urban areas.
Eastern redbuds on West Queen and Nash and Kollock streets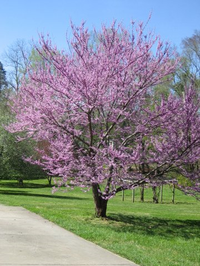 Tree — Eastern redbud (cercis canadensis)
Locations — West Queen and Nash and Kollock streets
Significance — these trees were recognized because they are some of the first to bloom in spring.
Facts about Eastern redbuds:
The Eastern redbud is a strikingly conspicuous tree in early spring because it flowers before the tree leaves form.
The pink to reddish purple flowers grow on old twigs, branches and trunks.
After the bloom, leaves begin to grow and gradually turn dark green.
The redbud is a member of the legume family. By late spring, the tree's green fruits take on the pod shape characteristic of members of this family. Each fruit contains several small dark brown to black seeds.
The redbud is native to the eastern United States, south of New England.
It is usually multi-trunked in the wild, with a vase shape and rounded crown that reaches about 20 feet tall and 20 feet wide at maturity when found in the open.
Eastern red cedar between Margaret Lane and West King Street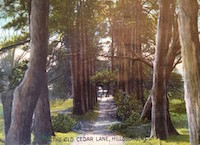 Tree — Eastern red cedar (juniperus virginiana L.)
Location — between Margaret Lane and West King Street
Significance — these trees were recognized because of their historic connection with "The Cedar Walk," a double row of trees planted about 1817 which formed a broad path between Margaret Lane and West King Street.
Facts about Eastern red cedars:
Not a cedar but a juniper, this tree usually grows to 40 to 50 feet but may be larger.
Although slow growing, this hardy tree can have a long life, with the reported age of one in West Virginia being 940 years.
On the female tree the fruit is a bluish color, globular shaped, about 1/4 inch in diameter and a favorite food source for birds.
On the male tree are found small cones up to 1/3 inch.
The bark is reddish-brown and peels into long fibrous strips.
Very resistant to decay, the distinctive red heartwood is a favorite choice for cedar chests, rustic furniture, pencils, interior woodwork and fence posts.
Flowering dogwood on North Wake Street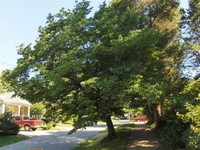 Tree — flowering dogwood (cornus florida)
Location — 100 block of North Wake Street
Significance — exceptional flowers and wildlife usage
Facts about dogwoods:
The dogwood was designated the North Carolina state flower in 1941.
It blooms after the redbud, spreading its white bracts in early to mid-April, before and overlapping with leaf development. Its foliage turns scarlet in autumn.
The true flowers are yellow and centered at the base of the four white bracts.
The tree grows to a height of 10 to 40 feet.
Its range is southern Ontario and the Great Lakes states to Maine in the North, as well as central Texas to northern Florida in the South.
It does best in well-drained, evenly moist, acid soils and partial shade.
The tree serves as a host plant for the spring azure butterfly.
Forty-three bird species eat the fruits and buds. The red fruits ripen in September and October and may persist into winter.
The tree's wood is extremely shock-resistant. It is used for making weaving-shuttles, spools, small pulleys, mallet heads and jeweler's blocks.
Native Americans used the aromatic bark and roots as a remedy for malaria and extracted a red dye from the roots.
Kentucky coffeetree on Riverwalk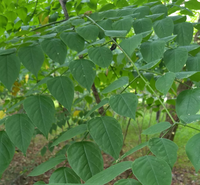 Tree — Kentucky coffeetree (Gymnocladus dioicus)
Location — North side of the Eno River near the Weaver Street Market entrance to Riverwalk
Significance — Although the fruit is toxic to animals and birds, the tree still has wildlife value as a larval host for both the bicolored and bisected honey locust moths.
Facts about Kentucky coffeetrees:
Has large, leathery 6- to 12-inch pods and very large leaves made up of smaller leaflets
Its common name refers to its use by early settlers, who roasted the seeds encased in the pods and brewed them as a substitute for coffee, which was expensive and hard to find outside of coastal cities.
Some Native American tribes found medical uses for parts of the tree, and the hard seeds were widely used as dice in a game found in many pre-colonial cultures.
Unless roasted, the seed is poisonous for both humans and animals.
It is thought that extinct large American herbivores, like the wooly mammoth, once ate and dispersed the seed.
Coffeetree seeds no longer spread from the mother tree except along streams where they may be transported downstream.
Because the leaves of this tree are late to emerge and early to fall, the Kentucky coffeetree is without leaves, or naked, five or six months of the year. Its Greek genus name, Gynnocladus, means "naked branch."
The tree's bipinnately compound leaves can reach up to 3 feet long and 2 feet wide, with numerous 2-inch leaflets, making them one of the largest leaves of our native trees.
The coffeetree can reach a height of 60 to 75 feet with a 40- to 50-foot spread at maturity.
Natchez crepe myrtles on Churton Street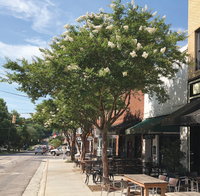 Tree — Natchez crepe myrtle (Lagerstroemia)
Location — downtown Churton Street
Significance — the trees were selected for providing shade and flowers in the downtown business district.
Facts about Natchez crepe myrtles:
Crepe myrtles are very resilient and can thrive in harsh, urban settings.
The trees do not need to be severely pruned each year, as is the practice of some tree owners.
The Tree Board encourages those who have crepe myrtles to allow the trees to take their natural form and to use hand pruners or loppers to shorten the topmost branches by 2 to 3 feet only if the height must be reduced.
The trees have a beautiful bark texture.
Osage orange on Churton Street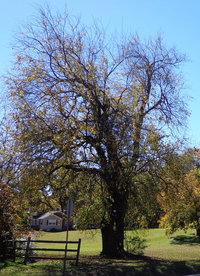 Tree — Osage orange (maclura pomifera)
Location — 319 Churton St.
Significance — the tree was selected for its size, coloration and unusual fruit.
Facts about Osage oranges:
The Osage orange typically can grow 50 to 60 feet tall.
The tree's native range historically was southwestern Arkansas to eastern Oklahoma and Texas.
Because of its straight trunk and stout thorns, the Osage orange frequently was planted as a living fence before the advent of barbed wire.
The tree's use as a barrier also gives the fruit its "hedge apples" name. Another name is "horse apples."
Pecan on West Tryon Street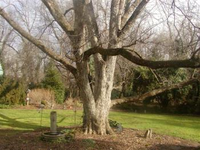 Tree — pecan (carya illinoinensis)
Location — 118 W. Tryon St.
Trunk's circumference — 13 feet
Significance — exceptional age and size and wildlife value. The tree, estimated to be at least 200 years old, is thought to be the oldest pecan in downtown Hillsborough.
Facts about pecans:
The trees are a species of hickory native to south-central North America.
The large, deciduous tree belongs to the same family as the English walnut and black walnut.
Its nuts are edible, with a rich, buttery flavor, and it is considered one of the most valuable North American nut species.
The name "pecan" is a Native American word of Algonquin origin used to describe "all nuts requiring a stone to crack." American Indians used pecans as a food source for thousands of years.
Commercial propagation of pecans in the United States began in the 1880s.
The wood is used in making furniture and flooring.
Red maple on East Queen Street and Lydia Lane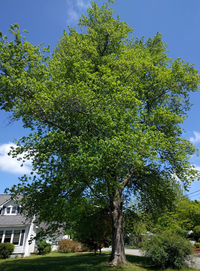 Tree — red maple (Acer rubrum)
Location — northwest corner of East Queen Street and Lydia Lane
Significance — This tree was selected for its intense scarlet color and red blooms that provide an early spring source of pollen for insects, including honey bees.
Facts about red maples:
Upon flowering, the red maple forms fruits as winged nutlets, called samaras in a pair.
The fast-growing tree often reaches more than 70 feet.
The red maple's name is a tribute to its red new branch growth, buds, flowers and spectacular fall leaves.
One of the most widely distributed trees in eastern North America, the red maple is found from Newfoundland and Nova Scotia to southern Florida and west from southern Ontario, Minnesota, Wisconsin and Illinois, and south through Missouri, eastern Oklahoma and southern Texas.
Native Americans used red maple bark as a remedy for hives and muscular aches. They also used it as an analgesic and as a wash for inflamed eyes and cataracts.
Pioneers used an extract from the bark to make cinnamon-brown and black dyes.
Southern magnolia on East Queen Street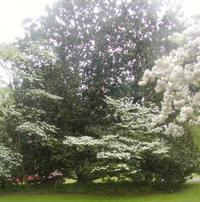 Tree — Southern magnolia (magnolia grandiflora)
Location — 131 E. Queen St.
Significance — the tree was selected for its beauty, wildlife values, winter interest and size.
Facts about Southern magnolias:
The Southern magnolia is an evergreen tree native to the southeastern United States. It is adaptable to many soil types, although it must be well-drained, and has few pest problems. Some consider the magnolia the "aristocrat" of Southern trees.
Other names for the tree are bull bay or big laurel.
The tree has distinctive large, shiny, dark leaves with a rusty, wooly back and large fragrant white blooms in the spring. A fruit cone with bright red seeds develops later in the season. The tree often is sought as an ornamental tree, and its large leaves, decorative flowers and cones are favorites for florists.
The magnolia has a straight trunk with heavily leaved limbs that almost reach the ground if left untrimmed. Its light, soft, cream-colored wood can be used as a veneer for furniture or as pulp for paper.
Southern red oak on Court Street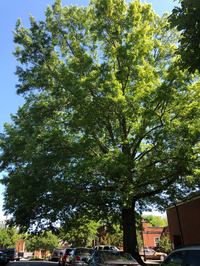 Tree — Southern red oak (Quercus falcata)
Location — East side of Court Street
Significance — the tree was selected for its shade, the beauty of its reddish leaves in autumn and for providing food and habitat for wildlife.
Facts about Southern red oaks:
Southern red oaks are native to the East Coast, ranging from Florida to New York.
They can mature to a height of 100 feet.
The tree's acorns become energy-rich meals to help fatten wildlife for the winter, including deer, squirrels, rabbits, chipmunks, raccoons, opossums, black bears, blue jays, crows and wild turkeys.
Tulip poplar on West Margaret Lane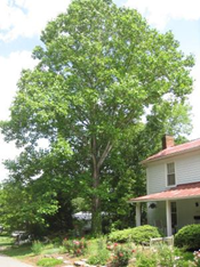 Tree — tulip poplar (liriodendron tulipfera)
Location — 315 W. Margaret Lane
Trunk's circumference — 73 inches
Facts about tulip poplars:
Tulip poplars are found throughout the Mid-Atlantic, Mid-South, Midwest and parts of Canada. They are rapid growers at 18 inches per year and are the tallest trees in the eastern forests. They will grow in moist and dry soils, although they perform better in a moist soil.
The tree, a relatively soft hardwood, is a member of the magnolia family. Its wood and the magnolia's are similar and sometimes confused when made into lumber.
Common names include white poplar, yellow poplar, whitewood and tulip tree.
By age 15, the tree blossoms and bears fruit, which deer will eat. The tulip-shaped flowers open in late April with colors from light yellow to green with an orange center. Flowers with a more orange center hold more nectar.
The tree's pollen is most common in local honey, making a reddish, dark color.
The tulip poplar's wood is used in furniture and framing for construction. It is lightweight and easily worked and will take paint easily. Often it is finished to look like other woods. Its lumber is prized for its straightness and medium uniform grain, as lateral branches sometimes do not begin for 50 feet. Pioneers would hollow out a single log to make a long, lightweight canoe.
For a fully rounded specimen, allow 20 to 30 feet from the nearest tree or structure when planting.
Willow oak on northeast corner of King and Wake streets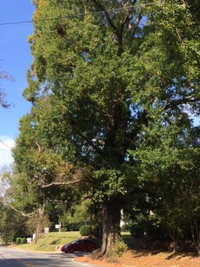 Tree — willow oak (quercus phellos)
Location — northeast corner of King and Wake streets
Significance — the tree was chosen because it is a noble specimen that is surprising in a number of ways.
Facts about willow oaks:
The "oak" name may bring to mind the typical lobed leaves of an oak, but the tree has narrow bristle-tipped leaves that put it in the red oak family.
Its relatively smooth bark also is a feature that distinguishes it from its lobe-leaved cousins.
The "willow" segment of the tree's name describes its willow-like foliage with 2- to 5-inch-long narrow leaves, but the tree is not a relative of the willow.
The willow oak is a fast-growing native tree common in river flood plains and rich upland soil.
It is hardy in zones 5-9 and ranges from New Jersey coast south to Northwest Florida and west to Southern Illinois and East Texas.
The tree usually grows 60 to 80 feet, with a 3- to 4-foot-diameter trunk.
Its leaves turn a pale yellow to orange-brown before dropping in the fall, and the tree produces many small acorns that are relished by wildlife.
Human uses for the tree include interior finishes, pulpits and bar tops, as it is marketed as a red oak and is almost as versatile as white oak.