Commissioner Robb English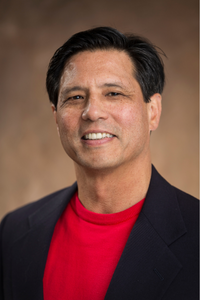 Current term:
2021-2025
2019-2021 (appointed)
About
Robb English was elected to a full term in 2021 after being appointed to fill a vacant seat in 2019. He has been a Hillsborough resident since 1998 and a Cornwallis Hills resident since 2002. English holds a bachelor's degree in therapeutic recreation and a master's degree in recreation administration, both from Florida State University. He and his wife of 24 years, Julie English, have two adult daughters, Lydia English and Ella English. He enjoys walks with his Labrador retriever Lucy, spending time with family, cooking, gardening, reading, hiking, biking, rock climbing, kayaking and canoeing.
Committee assignments
Hillsborough Parks and Recreation Board
Hillsborough Water and Sewer Advisory Committee (rotation)
Orange County Intergovernmental Parks Work Group
Orange County Climate Committee
Solid Waste Advisory Group (SWAG)