Commissioner Kathleen Ferguson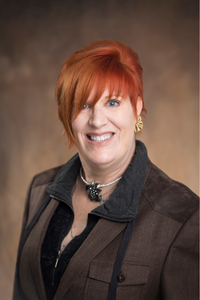 Current term:
2021-2025
2013-2017, 2017-2021
About
Originally from Huntsville, Alabama, Kathleen Ferguson has lived in the Hillsborough Heights community in Hillsborough since January 2001. Her areas of focus include affordable housing, regional collaboration, clean energy, economic development, mental health, substance misuse, and domestic violence recovery. She has been active in Fairview Community Watch since 2004. Previously, Ferguson was chair of the Orange County Economic Development Commission and a member of the Orange County Small Business Loan Program board. Professionally, she has served in clinical research delivery strategy, budgeting, and process improvement since 2001. She is employed as senior director of biostatistical consulting services for ICON. In her spare time, Ferguson is a reiki master teacher and furparent to Smarticus, a 3-year-old labradoodle.
Committee assignments
Ferguson represents the town in the following capacities:
Hillsborough Water and Sewer Advisory Group (rotation)
Orange County Housing Collaborative
Orange County Partnership to End Homelessness (OCPEH)
Triangle J Council of Governments (TJCOG) Board of Delegates
Areas of personal focus
Ferguson has been involved in community service through:
Bottom Line Burlesque and Comedy Troupe, board member
Central Carolina Women in Business
Fairview Community Watch, active since 2006
Healthcare Businesswomen's Association, mentor
Hillsborough Heights Neighborhood Watch, cofounder and leader since 2004
MentorNC and My Brothers and Sisters Keeper, advisory board member
Leadership Triangle Transforming Leaders, Goodmon fellow
N.C. Association of Regional Councils of Government Elected Leaders Forum
N.C. League of Municipalities Legislative Action Committee
N.C. Women in Municipal Government, chair
Orange County Continuum of Care, project committee member for Housing and Urban Development and emergency solutions grant
Orange County Historical Museum, board member
Orange County Opioid Task Force
Orange County Partnership to End Homelessness, racial equity committee member
Orange County Reentry Council Advisory Board, local government representative
Triangle J Council of Governments Legislative Committee, co-chair
Triangle J Executive Committee, chair
Triangle J 501(c)3 Board of Directors, vice chair