Operations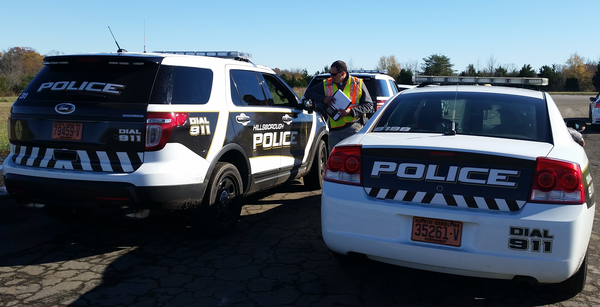 The Operations Division provides primary response to 911 calls and serves as the front line protecting the community.
Functions
Officers staff the division 24 hours per day, seven days per week. They perform a wide range of patrol duties and community policing programs including:
Responding to calls for service, such as criminal complaints, motor vehicle accidents, recovery of stolen property, public and medical assistance, apprehension of criminals and wanted persons, and enforcement of motor vehicle laws.
Working with the public to prevent crimes.
Providing directed patrols to deter crime.
Providing field training for new officers who have completed N.C. Basic Law Enforcement Training until they have met standards to be certified.
Patrol operations
The division uses different tactics and technologies to accomplish its mission. Both marked and unmarked patrol vehicles are used and are equipped with mobile data terminals, which provides links to local, state and national resources. Radar devices are available for officers to use when conducting motor vehicle enforcement. All primary patrol vehicles have basic first aid supplies to assist with medical emergencies, and officers have access to automated external defibrillators.
K-9 program
The K-9 program serves as a valuable tool in combating and deterring crime. It is often the determining factor in conducting a search or achieving a peaceful arrest. The program also serves as a valuable public relations tool through demonstrations in schools and at public events.
Functions
The K-9 officers may be used for the following:
Building searches.
Tracking and searching for missing persons, suspects or evidence.
Apprehension of criminal suspects.
Narcotics raids and searches.
Crowd control for violent or unruly crowds.
Officer protection.
Training
The K-9 officers and their handlers train for at least 16 hours every month. Training includes a variety of scenarios and is conducted in different locations and weather conditions. Hillsborough's K-9 officers also train with handlers and dogs from surrounding agencies and are certified annually by an independent trainer.
Demonstrations
The K-9 officers and handlers demonstrate their work in programs for local schools and community groups. To request a demonstration, contact the department.
Contact information

127 N. Churton St., Hillsborough, NC 27278
919-296-9500
Offices are open 8 a.m. to 5 p.m. Monday-Friday.

Emergencies: Call 911

Key personnel
Blackwell, Heather
Police Sergeant
919-296-9535
Blackwell, Heather
Police Sergeant
919-296-9535
Chestnut, Scott
Police Lieutenant
984-261-9551
Chestnut, Scott
Police Lieutenant
984-261-9551
Gregory, Alex
Police Sergeant
919-296-9543
Gregory, Alex
Police Sergeant
919-296-9543
Senter, Nicole
Police Sergeant
919-296-9560
Senter, Nicole
Police Sergeant
919-296-9560
Simmons, Andy
Police Major
919-296-9522
Simmons, Andy
Police Major
919-296-9522
St. Pierre, Van
Police Sergeant
919-296-9533
St. Pierre, Van
Police Sergeant
919-296-9533