Reservoir Expansion Wins State and National Awards
The Phase 2 design has been recognized for engineering excellence
Thursday, June 22, 2023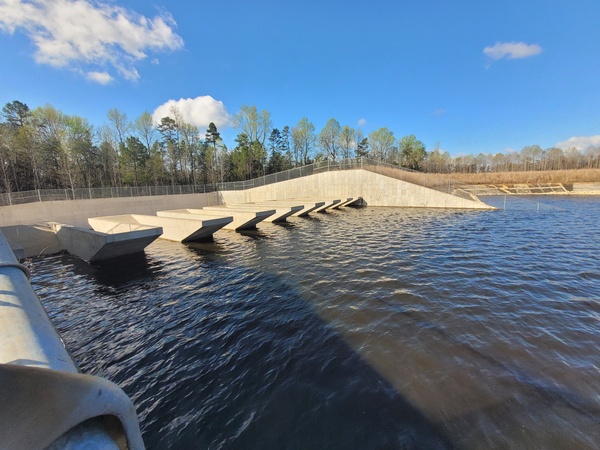 Hillsborough's reservoir expansion has earned the town and the engineering firm behind it state and national recognition for engineering excellence.
The expansion of the West Fork Eno Reservoir was completed in 2021 and doubled the reservoir's storage capacity to about 1.2 billion gallons, raising the Phase 1 level by about 10 feet.
The Town of Hillsborough and Schnabel Engineering South earned a:
2023 National Recognition Award from the American Council of Engineering Companies last week.
2023 Honors Award from the American Council of Engineering Companies of North Carolina last fall.
"The reservoir expansion was a very big and very important project on a critical piece of town infrastructure," Hillsborough Mayor Jenn Weaver said. "To win these awards at both the state and national level says so much about the time, effort, and expertise of all the town staff who worked on this project. Congratulations and deep gratitude to all of them!"
More information
The Engineering Excellence Awards celebrate engineering excellence, honoring projects worldwide that demonstrate innovation, creative problem-solving, and an ability to improve the world. The competition is juried by a panel of industry, government, and academic experts.
The $16.9 million expansion was started in spring 2018, with completion delayed until fall 2021 due to weather and the COVID-19 pandemic. The project included dam modifications, construction of a new spillway, raising Carr Store and Efland-Cedar Grove roads and installing a new bridge on Carr Store Road to accommodate the reservoir's higher water level. A curve in Efland-Cedar Grove Road also was straightened in coordination with the North Carolina Department of Transportation as part of the road raising work.
The new spillway is designed with notched weirs, also called piano key weirs because they resemble the instrument's keys. Few existing concrete dams in the United States have this design, which increases the overflow capacity of existing dams at a lower cost than a traditional free-flow spillway by providing a greater surface area in a smaller footprint.
The reservoir was planned as a two-phase project in the 1990s, with the first phase completed in 2000. It is being allowed to fill to its new elevation of 53 feet and is currently around 47 feet.