Hillsborough Receives Planning Awards
Tuesday, Nov. 14, 2023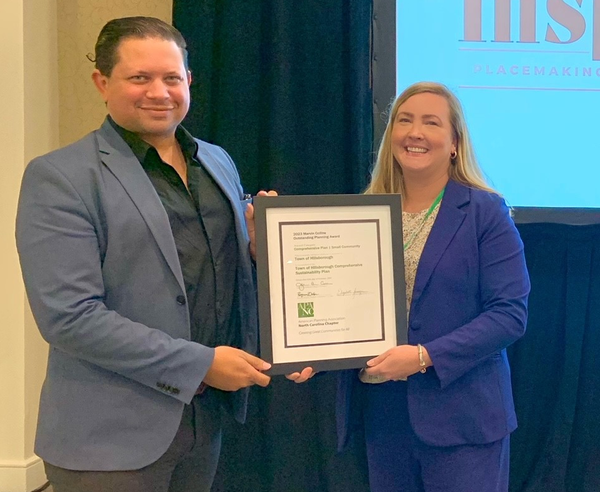 Updated at 12:19 p.m. on Nov. 14, 2023: Updated to note that the Comprehensive Sustainability Plan has been recognized with three total awards.
The town's comprehensive sustainability plan is drawing praise in North Carolina and across the country. The town has received the following awards:
Engineering Excellence Award for Planning and Mapping and the People's Choice Award from the American Council of Engineering Companies.
The North Carolina Marvin Collins Award for Outstanding Planning, Honorable Mention from the North Carolina Chapter of the American Planning Association.
"I'm really proud of this plan, especially the community engagement we were able to obtain in order to develop it," Planning and Economic Development Manager Shannan Campbell said. "We were able to capture the community's ideas for how we should grow and efforts we can make as a town to be more sustainable moving forward. We are now tasked with implementation of the plan, which is already underway."
The project was led by Public Space and Sustainability Manager Stephanie Trueblood with collaboration from Planning and Economic Development Manager Shannan Campbell and assistance from consulting firm VHB project lead Candice Andre.
"Developing the plan brought our community together through the identification of shared goals and values," Public Space and Sustainability Manager Stephanie Trueblood said. "Having a comprehensive plan is essential to guide decision-making so that future growth and development are sustainable."
The town began gathering input from community members in May 2021 with a survey and virtual public workshop. Throughout the process of writing the plan, community input was sought at focus group meetings, board meetings and community events.
The plan was adopted by the Hillsborough Board of Commissioners in June 2023. The plan assesses the current conditions in the town and puts forth goals, strategies and actions to guide the town toward a sustainable future. Each of the eight focus areas of the plan has its own dedicated chapter:
Town Government & Public Services
Land Use & Development
Environmental & Natural Systems
Transportation & Connectivity
Social Systems & Public Space
Housing & Affordability
Economic Systems & Tourism
Climate & Energy
More information
Have you read any of the plan's chapters yet? See the Comprehensive Sustainability Plan page to read the plan.