Board of Commissioners Meeting Summary
The board receives employee award presentation, swears in officers and approves parade permit
Tuesday, Nov. 14, 2023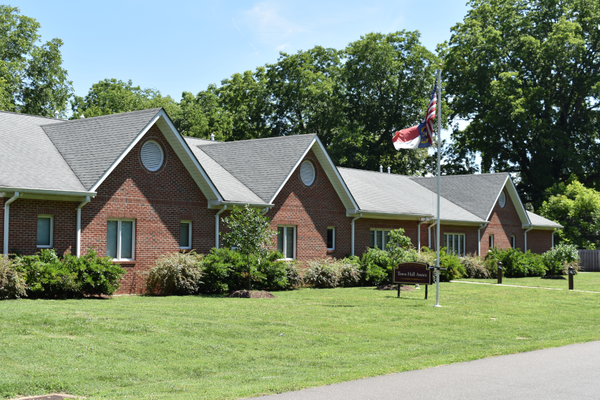 The Hillsborough Board of Commissioners met Monday, Nov. 13, at the Town Hall Annex. Following is a brief summary of noteworthy actions. It does not include all actions taken at the meeting and should not be viewed as official minutes. The meeting is available for view on the town's YouTube channel.
Presentations
Employee awards — The board received a presentation recognizing 41 town employees for their excellence in innovation, customer service and endurance during Fiscal Year 2023, which ended June 30. Read the town news release for more information.
Oaths of office — Officers Brandon Alvarez and Madison Soltys reaffirmed their oaths of office. They joined the Hillsborough Police Department earlier this year.
Pronouncements
Vision Zero policy adoption — The board passed a resolution adopting a Vision Zero policy, a strategy to eliminate all traffic fatalities and severe injuries, while increasing safe, healthy, equitable mobility for all. First implemented in Sweden in the 1990s, Vision Zero has proved successful across Europe and is gaining momentum across the United States. This resolution fulfills objectives of both the town's Comprehensive Sustainability Plan and Strategic Plan, and may allow the town to compete for additional grant funding.
Arbor Day — The board approved a proclamation stating that Nov. 15 is Arbor Day. The proclamation will be read aloud at the tree planting, 9 a.m. Nov. 15 at the Dorothy N. Johnson Community Center.
Planning Board appointment — The board approved a resolution to Orange County requesting appointment of Jeanette Benjey to a seat on the Planning Board representing the extraterritorial jurisdiction for a three-year term.
Parade and tree lighting
The board approved a special event permit application for the annual holiday parade and tree lighting. The event will be held Dec. 3, and the Hillsborough/Orange County Chamber of Commerce has adopted additional safety standards and protocols that are required for participation.
Utilities
The board amended the Hillsborough Code of Ordinances regarding:
Capital development fees — To add the town's calculation of system development fees to the ordinance. The basis of design the town utilizes for water or sewer system planning for water and wastewater projects is 120 gallons per day per bedroom.
Meter setting — To add that meter setting and other town services can be refused until the application for service fee has been paid and all town requirements for extensions and connections are met.
Related documents

Agenda packet