Hillsborough Receives Stormwater Award
Friday, Sept. 22, 2023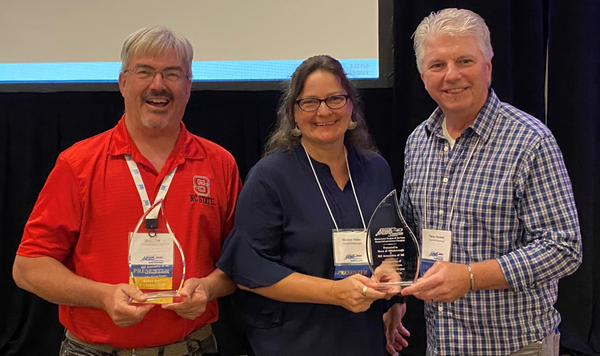 A town stormwater project on Odie Street was recognized as the green infrastructure project of the year this week by the Stormwater Management Division of the American Public Works Association North Carolina Chapter.
The Odie Street Green Infrastructure Project began in 2016 with a partnership with Habitat for Humanity of Orange County to redevelop properties on the street. At the time, Odie Street was a gravel road with significant drainage issues. The stormwater project not only improved drainage along the street but also reduced stormwater runoff pollution by allowing stormwater to flow through newly constructed bioswales. The bioswales contained a special soil mixture and were planted with either grass or native plants. The combination of plants and soil mixture work together to remove pollutants from stormwater runoff.
The project has involved the residents of Odie Street, who chose how the bioswales in front of their homes would be planted and have participated in education workshops on the maintenance of those bioswales.
Habitat for Humanity of Orange County worked closely with town staff during the public engagement and construction phases. The project also has involved several partnerships including the Piedmont Conservation Council for securing funding for the infrastructure and Fairview Community Watch group for supporting neighborhood outreach. KCI and Associates of North Carolina designed the engineering components (bioswales, treatment swales, and check dams), and Backwater Environmental performed the construction. Environmental educators with Outdoor Science Labs led the environmental education events. In collaboration with the partners, N.C. State University was awarded a North Carolina Land and Water Fund grant to collect hydrologic and water quality data from two Odie Street bioswales.
At the awards ceremony, it was noted that the community engagement, multiple partnerships, outreach and education components were factors in the project's selection.
Stormwater and Environmental Services Manager Terry Hackett and Stormwater Program Coordinator Heather Fisher accepted the green infrastructure project of the year award at the association's annual conference in Charlotte.
"We are honored to receive this recognition from the APWA-NC Stormwater Division for our work on the Odie Street Green Infrastructure project," said Fisher, who managed the project for the town. "We are also grateful to PCC for their leadership and to all the partners, homeowners, and volunteers who made this project possible."
Visit the award-winning project
Learn how bioswales help improve water quality while participating in hands-on activities Saturday morning, Oct. 21, on Odie Street. See the attached program flyer for more information.
More information
See the Stormwater and Environmental Services page and Stormwater and Environmental Education page for more information about the town's stormwater work.
Related documents

Bioswales fact sheet

Oct. 21 Event flyer