Board of Commissioners Meeting Summary
Town adopts strategic plan, receives study on proposed greenway
Tuesday, June 27, 2023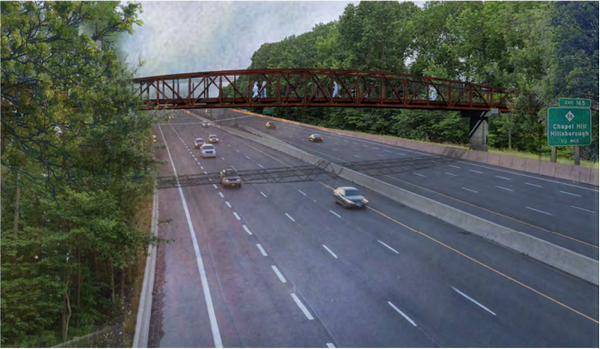 The Hillsborough Board of Commissioners met Monday, June 26, at the Town Hall Annex. Following is a brief summary of noteworthy actions. It does not include all actions taken at the meeting and should not be viewed as official minutes. The meeting is available for view on the town's YouTube channel.
Budget
The board approved:
Changes to the Fiscal Year 2024 Fees and Charges Schedule, previously adopted at its June 12 meeting, to include two footnotes related to water and sewer charges.
Approved the Tourism Board budget of $510,825 for Fiscal Year 2024. The board is funded by a 1% food and beverage tax.
Approved the Tourism Development Authority budget of $100,000 for Fiscal Year 2024. The authority is funded by a 3% occupancy tax.
Greenway feasibility study
The board received a feasibility study on the proposed Ridgewalk greenway to connect downtown Hillsborough to Cates Creek Park in the Waterstone neighborhood. The board is expected to discuss the study's findings in late summer or early fall.
Strategic Plan
The board approved a strategic plan, which sets the town's objectives for the next three fiscal years, influencing decisions on budgeting and staffing, policy initiatives, and capital investments. The plan includes initiatives recommended in the Comprehensive Sustainability Plan that the board adopted earlier this month. Staff will return to the board in the fall for a check-in of priorities. Administrative Services Director Jen Della Valle noted final tweaks will continue to be made to the plan, including adding performance measures to two of the five focus areas.
Board updates
During the updates from the mayor and board, it was clarified that the Water and Sewer Advisory Committee plans to discuss at its Aug. 3 meeting the potential for reimbursement for about six people who adhered already to a backflow prevention requirement that is being reexamined for existing residential pools. Utilities Director Marie Strandwitz said the committee's June meeting was focused on alternate solutions for owners who had not yet installed a reduced pressure zone assembly for backflow prevention. She said staff also needs to ensure no other hazards are present that would require the assembly.
Commissioner Kathleen Ferguson was reappointed to the North Carolina League of Municipalities' legislative action committee. Commissioner Matt Hughes is now president of the Northern Orange Branch of the National Association for the Advancement of Colored People (NAACP) and recently was appointed to a student reassignment subcommittee for Orange County Schools.
The quarterly joint public hearing of the Board of Commissioners and Planning Board will be in August instead of July.
Related documents

Agenda packet